After the completion of Training for Trainers (TOT) activities for government earlier on in the program, D4D helped and published the Data and the Statistical Literacy handbook. This handbook was developed in close consultation and supervision from CBS officials. The book is written in Nepali and contextualized for government representatives as the language caters to majority of the country. Examples/exercises used in the book are based on government data.
2000 copies were printed and a launch program was organized at CBS office in Kathmandu. Representatives from various sectors and spheres of government including the federal government, development partners, local government, media, and academia saw attended this event.
Printed copies are distributed to all local governments, District Coordination Committees, Federal Ministries, Federal Ministries Secretaries, Provincial Ministries, Constitutional Bodies, universities, CBS regional offices, INGOs, Bilateral/Multilateral organizations, and others.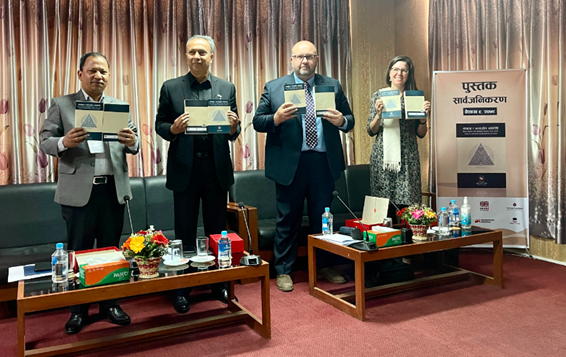 Photo: Nebin Shrestha, Director of CBS, Kewal Prasad Bhandari (member of NPC), Craig Irwin (FCDO) and Meghan Nalbo (CR Nepal TAF) launching the statistical handbook in Kathmandu.
Find the full handbook here.