Celebrating open data day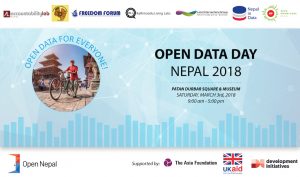 To celebrate Nepal's advancements in open data and sensitize a broad range of new audiences to its potential benefits, the D4D Program supported seven Nepali organisations to collaboratively host a large scale 2018 Open Data Day event.
Open Data Day provides an annual opportunity for groups working on agendas related to data, innovation, mapping, transparency, accountability, and evidence-based decision-making to showcase their data initiatives and raise awareness of the importance of data for development. The D4D Program took this opportunity to engage partner organizations to work collaboratively in marking the importance of open data, and to introduce the concepts involved to a wider and new set of audiences. Accordingly, on March 3rd, the D4D Program coordinated Nepal's largest Open Data Day celebration to date, with collaboration from seven partner organizations – Accountability Lab, Bikas Udhyami, Center for Data Journalism, Freedom Forum, Kathmandu Living Labs, Local Interventions Group, and Open Knowledge Nepal.
Preceding the event, Bikas Udhyami held a Data Poster Competition that built the data visualization skills of over 20 participants on key issues such as poverty, education and youth. The winning teams were announced during Open Data Day and their data posters were exhibited on Patan Durbar Square and shared via social media. In addition, the Center for Data Journalism and Open Knowledge Nepal held a journalist Data-a-thon with almost 30 journalists and techies with a view to inspiring data-driven storytelling.
The Open Data Day 2018 celebrations on March 3rd, themed 'Open Data for Everyone', took place in the historic Patan Durbar Square and Museum. The day featured:
-A formal program attended by more than 200 people which featured a panel discussion on the importance of data for government budgeting; speeches by the Former Vice Chairman of the National Planning Commission the Head of DFID Nepal; and lightning talks on open data initiatives by various D4D Program partners.
-A public exhibition of over 80 infographics aimed at making data accessible to everyone and attracting hundreds of people.
-An interactive map-athon by Kathmandu Living Labs which introduced participants to the crowdsourced open data of OpenStreetMaps.
-A data treasure hunt by Bikas Udhyami which used fun challenges and puzzles to engage children with data related to federalism and development.
-An area of information stalls where D4D Program partners shared details of their work and engaged the general public in discussions on open data.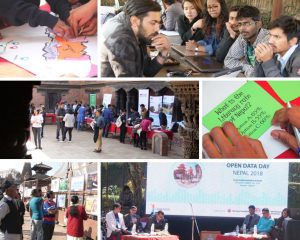 For more information about Open Data Day 2018:
-Blog – Read this blog developed by the D4D Program.
-Video – Following the celebrations, a short film was made to commemorate the day and increase awareness on what is open data and what it means for Nepal. The video can be watched here.
-News coverage – The event was covered by various online Nepali news sources including – Techlekh, Nepali Sansar and Glocal Khabar.