Strengthening a community of practice on open data
To drive forwards growth and impact of open data in Nepal, the D4D Program has worked to support collaboration between organisations working on data, innovation, transparency and accountability and through this, strengthen Nepal's community of practice on open data, known as Open Nepal.
Over the last few years there have been a growing number of new initiatives, organizations and groups who have started working to improve the sharing and use of data in Nepal. There is growing consensus among these actors that for their work to have a greater impact, reach a greater number of people, have higher chances of sustainability and lead to real gains in evidence-based development in Nepal, they need to collaborate as an open data community. Through this they can synergize their efforts to build an inclusive data ecosystem and enabling environment for better governance, accountability, transparency, innovation and civic engagement.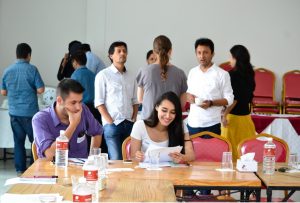 The Open Nepal Initiative was set up in 2013 by a group of stakeholders interested in the role that data could play in driving Nepal's development. The D4D Program is supporting the local open data community to expand and strengthen Open Nepal as an open data community of practice and knowledge hub – run by the community for the community. This process has included a scoping exercise to understand the potential of strengthening collaboration between organisations to drive progress in Nepal's open data agenda along with a series of workshops that addressed topics such as – "what is the vision for open data in Nepal", "what is the role of an open data community in contributing to achieving that", and "how can cross-learning and collaboration work in practice". Going forwards, the community has agreed to a loose-network structure, represented by the Open Nepal brand, with coordination and lesson sharing achieved via regular quarterly meetings.
With the consensus on what the revitalized Open Nepal should be, the D4D Program continues to support the development of Open Nepal by hosting the Open Nepal quarterly meetings, supporting the development of a new Open Nepal website, and by supporting members to host joint events, such as the Open Data Day 2018 celebrations.
For more information about Open Nepal:
Check out the Open Nepal website

here

Read more about Open Nepal through these blogs: