The value of working together as an open data community
This blog was written by the D4D Program team and is also published on the Open Nepal website.
With the near completion of the first local elections in two decades and the gearing up for provincial elections in late November, this is an exciting time for Nepal. However, while the federal structure is now taking shape, Nepal continues to face many pressing development challenges related to poverty, transparency, accountability, economic development, inequality and social inclusion. To address these challenges, the use of evidence – reliable, accessible data and information – to inform decision-making, monitor progress and evaluate development outcomes will be key. Despite progress, challenges with regard to the production, sharing and use of high-quality data for sustainable development remain.
As regular readers of this blog will know, over the last few years there have been a growing number of new initiatives, organizations and groups who have started working to address some of these challenges and improve the sharing and use of data in Nepal. These groups have been addressing the issue of data for development from a range of angles. Some have been providing technical solutions; some have been advocating with government around appropriate policy; some have been empowering citizens to demand transparency and accountability; and some have been supporting the building of skills among data suppliers and data users. These groups have played an important role in Nepal's emerging data revolution, as highlighted in the recent reports by Development Initiatives, Gov Lab and Small Media – and as regularly highlighted via the Open Nepal blog. The following timeline from Development Initiative's report demonstrates some of the achievements of this group.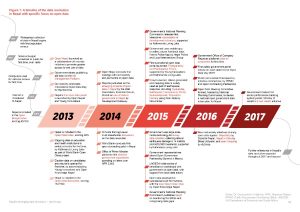 Recent months have seen exciting new milestones in Nepal's open data progress with new initiatives set up to open up data in the health sector, in public procurement, in relation to the SDGs and in relation to the elections. In addition, in the past few weeks has been an exciting time for the open data community with the acceptance by Nepal's Prime Minister of an Action Plan on Open Data submitted by the National Information Commission (NIC) and on the Open Government Partnership.
Nepal's dynamic community of data enthusiasts has played an important role in this progress and in encouraging the growing interest from government and civil society in open data. However, even with these advancements, the "open data" agenda in Nepal is still relatively new and niche. There is potential to increase the number of these groups, and enhance and support the work of the actors within the open data ecosystem. It has been increasingly recognized by the open data movement internationally that making data open is not enough. For open data to lead to greater transparency, accountability and innovation it needs to be used and shared by a functional and inclusive ecosystem of data suppliers, intermediaries and users operating within an enabling environment for (open) data as evidence-for-development.
There is growing consensus among Nepal's open data actors that there is now an opportunity to advance their collaboration as an open data community and build this inclusive data ecosystem and enabling environment together. This advancement will allow for the work of these groups to have a greater impact, reach a greater number of people, have higher chances of sustainability and lead to real gains in evidence-based development in Nepal. The growing recognition to advance collaborative efforts among the open data players in Nepal, along with the exciting recent developments in open data in Nepal, presents an opportune moment for Open Nepal to be revitalized as an inclusive open data community of practice and knowledge hub – run by the community for the community.
Over the coming months discussions will take place among Nepal's open data community to better understand how can this collaboration can be enhanced and how it can be utilized to add value to the open data ecosystem in Nepal. These discussions are supported by the "Data for Development in Nepal" program implemented by The Asia Foundation in partnership with the Development Initiatives and funded by the UK's Department for International Development. Please watch this space for updates on the discussions.
If you are interested in taking part in these discussions please get in touch at info@opennepal.net.