New Open Data Innovation Fund for Nepal – apply now!
This blog was written by the D4D Program team and is also published on the Open Nepal website.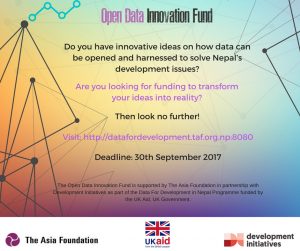 Do you have innovative ideas on how data can be opened and harnessed to solve Nepal's development issues? Are you looking for funding to transform your ideas into reality? Then look no further!
We are delighted to share that a new Innovation Fund on open data has been launched today – a first for Nepal. This fund – The Open Data Innovation Fund – will help Nepal's development innovators to address development challenges by supporting with funding and advice their innovative solutions to improving the accessibility and use of (open) development data.
The Fund seeks to support Nepali organisations with ideas for innovative interventions, approaches or technical solutions – which could include mobile or web apps, visualisation software, infographics, policy engagement efforts, training and awareness raising, community engagement, action research or more. The Open Data Innovation Fund will be making awards of up to USD 10,000 each for 3 to 5 successful applicants. Technical advice and guidance will be available to winning organisations to strengthen the implementation of their ideas.
The deadline for applications is Saturday 30th September, 2017 at 5pm. More detail information and the application from can be found at the following link – http://datafordevelopment.taf.org.np:8080/
The Open Data Innovation Fund is supported by The Asia Foundation in partnership with Development Initiatives as part of the "Improving the Sharing and Use of (Open) Data as Evidence for Development" Programme funded by the UK Government.