Call for Participation – Women in Data Conference 2021
Join us for the 2nd Women in Data Conference organized  by the D4D program in partnership with Girls in Tech, Women Leaders in Technology, Women in STEAM & Open Knowledge Nepal , with the theme "Leveraging the Power of Women, Data and Technology"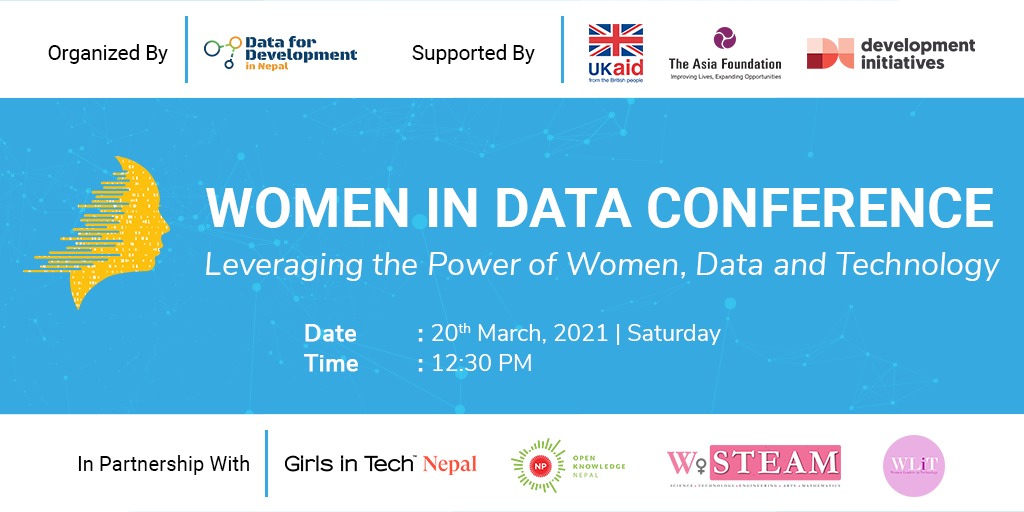 Nepal's first Women in Data Conference was hosted on February 23, 2019 with the theme डाटा शक्ति नारी शक्ति – 'where two superpowers meet' and brought together inspiring women speakers, influential panelists, data professionals and aspiring young women in a one-day event to celebrate women working in data.
This year too, the D4D program has organized an eventful day filled with interesting discussions and inspiring women panelists with the aim to increase girls' and women's participation within the sector. In line with this year's theme; Leveraging the Power of Women, Data, and Technology, the conference will have;
Leadership panel discussion on Leveraging Data for Digital Future by Girls in Tech (GiT) with panelists; Jyoti U. Devkota ( Professor in the Department of Mathematics, KU), Sumana Shrestha (Managing partner, Kosi Collaborative) and Jamie Holton (Project Management & Research Officer, Publish What You Fund)
Presentation on Role of Technology in STEM for Nepal by Women in STEAM with insights on the status of girls/women in tech globally and in Nepal, available Policies in ICT, Education & STEAM, role models & innovative ideas as well as guide for beginners to jumpstart their career in STEAM.
Panel discussion on Women innovators using tech and data for problem solving by Women Leaders in Technology (WLiT) with panelists; Rumee Singh (Founder, Hamrolifebank), Princi Koirala (Co-Founder, Moonlit Solutions) Aradhana Gurung (Country Manager, Viamo).
WHEN: 20th March 2021, 12:30 PM onwards.
WHERE: Zoom !
REGISTER: Please find the registration link here.