Showcasing data infographics

To excite the public about data and reach new audiences with data about their country and communities, the D4D Program hosted a public infographic exhibition at Kathmandu (Basantapur) Durbar Square.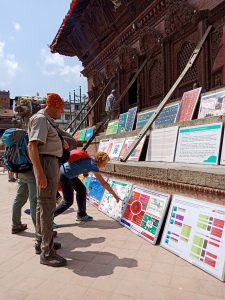 With the success of the data infographics exhibition at Patan Durbar Square during the Open Data Day celebrations in March, the D4D Program re-hosted the exhibition in Kathmandu (Basantapur) Durbar Square on May. This included over 80 infographics prepared by Bikas Udhyami, the Center for Data Journalism, Kathmandu Living Labs, Local Interventions Group, Open Knowledge Nepal, Development Initiative and The Asia Foundation. The infographics shared data on a wide range of topics, including the new federal structure, foreign aid, migration, trade and commerce, tourism, health, agriculture, education, youth statistics, case-studies on earthquake-affected victims, and maps.

The event attracted a large number of interested viewers, many of whom interacted with the D4D Program team in lively discussions around the data. The D4D Program hopes to continue to generate citizen interest in and engagement with data by hosting similar exhibitions out of the Kathmandu Valley.