Announcing Open Data Day Nepal 2018, 3rd March, Patan Durbar Square and Museum
This blog was written by the D4D Program team and is also published on the Open Nepal website.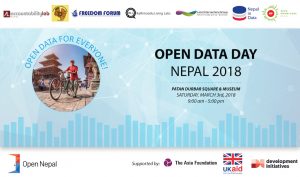 Open Data Day 2018 is almost approaching, and in Nepal too, celebrations are in store. A full-day free, exciting, interactive event is being hosted at Patan Durbar Square and Museum on March 3, where the general public will get an opportunity to experience and learn the importance of data in the context of Nepal's development.
This event is being jointly organized by the Accountability Lab, Centre for Data Journalism, Freedom Forum, Kathmandu Living Labs, Local Interventions Group, Bikas Udhyami, and Open Knowledge Nepal, as a part of the Open Nepal initiative, with funding and support from the Data for Development Program. Activities will include:
· Photo Exhibition around Patan Durbar Square (9am-5pm): The exhibition will showcase interesting pictures, and data-related work done by the Center for Data Journalism, Kathmandu Living Labs, Local Interventions Group, Nepal in Data and Open Knowledge Nepal.
· Mapathon at Patan Museum (9am-11:30pm): A fun workshop will be hosted by Kathmandu Living Labs on how to make use of and add information to Open Street Maps.
Event link: https://www.facebook.com/events/410407662734171/
· Data Treasure Hunt and Data Related Children Activities at Adarsha school (10:00 am -1:00 pm): At Adarsha school next to the Patan museum, an exciting morning program, organized by Bikas Udhyami, awaits kids, with a data-treasure hunt, data face painting, a clown, magician and trampoline.
· Panel Discussion and Presentations (1:30pm-3:30pm): An interactive and informative session for people to learn more about and ask questions on the use of data for different types of work in Nepal. The event partner organizations will also be demonstrating their own work with data, helping answer the question: Is data important?
· Musical Performance (3:40pm-5:00pm): The event will end with an energy-packed performance by Nattu & The Team.
In addition to the activities on 3rd of March, there will also be pre-events:
· Data Poster Competition – 23 Feb 2018:
Nepal in Data is organizing a competition to visualize data by developing a data poster. During the event, the Nepal in Data team will give a crash course in how to conceptualise and visualize data and at the end teams will be invited to submit their data posters for great prizes. The winners will be announced during Open Data Day and the top-5 data posters will be exhibited on Patan Durbar Square.
Event Link: https://www.facebook.com/events/331678134010710/
· Journalist Datathon – 28 Feb 2018:
Open Knowledge Nepal and Center for Data Journalism are hosting a pre-event with journalists, giving them a space to implement their learning by using data in practice. The final products of this event will be showcased at the main Open Data Day event on March 3, 2018.
Event Link: https://www.facebook.com/events/202401847172651/
Come and be a part of the Open Data Community in Nepal on March 3 at Patan Durbar Square and Museum. Hope to see you all there!
For more information, please visit: https://www.facebook.com/events/236362010240347/
The event is being supported by The Asia Foundation in partnership with Development Initiatives as part of the Data for Development in Nepal Program funded by UK Aid.