Development of a tool for analysing government data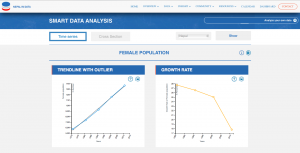 To support the improved analysis and use of government data that is already available in Nepal, the D4D Program supported Smart Solutions to develop a free data analysis tool embedded within the Nepal-In-Data Portal.
A key barrier to the use of data in Nepal is the specialist analytical ability and software required to effectively analyze and interpret data. Many people do not have access to the skills or software, and so use of existing government data for evidence-based policy-making, advocacy, reporting and research has been limited.
As an awardee of the Open Data Innovation Fund, Smart Solutions were supported by the D4D Program to develop the Smart Analysis Tool. Developed with technical support from Bikas Udhyami, the Smart Analysis Tool aims to make data analysis and its use easier for federal, provincial and local governments, people's representatives, civil society organizations, media, development agencies, academics, students and other users.
The Tool allows users to quickly analyse various data and generate graphs and charts easily and free of cost. The Tool sits on the Nepal in Data portal (a portal that shares development data and statistics in Nepal from 1950 to present). This allows users to analyse data from over 3000 indicators divided into 13 sections at their desired level of locality (Federal, Province or Local level). In addition to this, users can upload their own data and get the results as well. The tool contains various inferential statistical tool such as mean, median, mode, skewness, smoothing, trend, moving average, difference, correlation, ratio etc. Both time series and cross sectional data can be analyzed using the tool.
The tool is designed to allow users to quickly analyze data and generate graphs, charts, and values without rigorous training. Video based training manuals have been developed to support the use of the tool.
It is hoped that the tool will help federal, provincial and local policy makers and their staff, civil society groups and academia to interpret data and perform basic data analysis across sectors thereby aiding them in evidence-based policy making, advocacy, programming, reporting and research related to critical development issues in Nepal.
For more information please access the tool here.